Strengthening Your Strategic Selling Skills - Audio Series and Workbook
004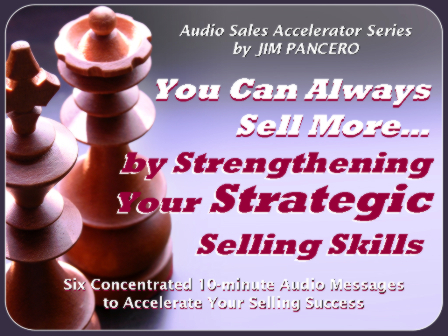 The toughest single question asked by customers today is "Why, based on all the competitive alternatives available to me do I want to buy from you?" How successful have you been persuasively answering this question from your customers or prospects? Specifically developed for the experienced sales professional, this information-intensive program will first help you understand the structures and philosophies behind delivering a stronger, and more effective strategic message of uniqueness. Next you will learn how to define and improve your company's strategic message of competitive uniqueness. And finally we will discuss how to best integrate your strategic message into your daily selling efforts.
1st - For Your Sales Leaders - A special ten minute companion audio program is included to help your managers successfully coach their people through this advanced training. This special ten minute audio message is titled:
- "How To Successfully Coach and Lead Your Team Through 'You Can Always Sell More - Even In A Tougher Economy!"
A brief (less than ten minute) audio is also provided to help each of your sales people to better understand how to receive the maximum learning opportunities from this series.
2nd - For Your Sales People - Specifically developed for the experienced sales pro who is experiencing a tougher, challenging selling environment, this advanced training program is meant to re-energize, refocus, retool and redirect your sales team. Six ten minute audio messages are included in this sales training program covering:
Module #1 - "How To Increase Your Strategic Selling Power"
Module #2 - "Understanding The Core Values Of Why People Really Buy"
Module #3 - "How To Develop Or Strengthen Your Strategic Message of Uniqueness"
Module #4 - "How To Package And Test Your Strategic Message"
Module #5 - "Five Tests To Help Improve Your Strategic Selling Message…and How You Deliver It"
Module #6 - "How To Maximize Your Strategic Selling Impact"
A 22 page workbook in PDF format is included with this AUDIO DOWNLOAD.