The Coaching Cube
003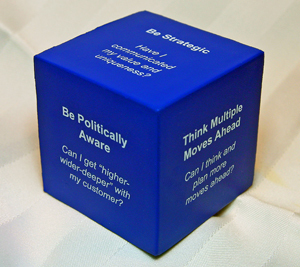 We're excited to share with you one of our latest sales management products to help you increase your sales coaching and leadership effectiveness. Called "The Coaching Cube©" this 2 ¼" cube is constructed of dense foam material like that used in traditional "stress balls" and has printed on each of its six sides a critical coaching concept to share with the members of your sales team.
By displaying the top six most critical coaching ideas or suggestions, the "The Coaching Cube©" is meant to sit on your desk as a reminder to help you think of additional ideas that can improve your team's selling opportunities and multiple-stepped plans. It can also be used to help stimulate your sales rep's strategic customer planning. Next time a coaching session or account planning meeting with one of your sales team members stalls due to a lack of new ideas, toss the "The Coaching Cube©" over to your sales rep asking them to "pick a side" and tell you what they think they can do to help fulfill or achieve the idea being offered.
Each of the six sides of the "The Coaching Cube©" offers a critical coaching suggestion or idea.
Includes the 4- page article on how to use and get the best results from your Coaching Cube.